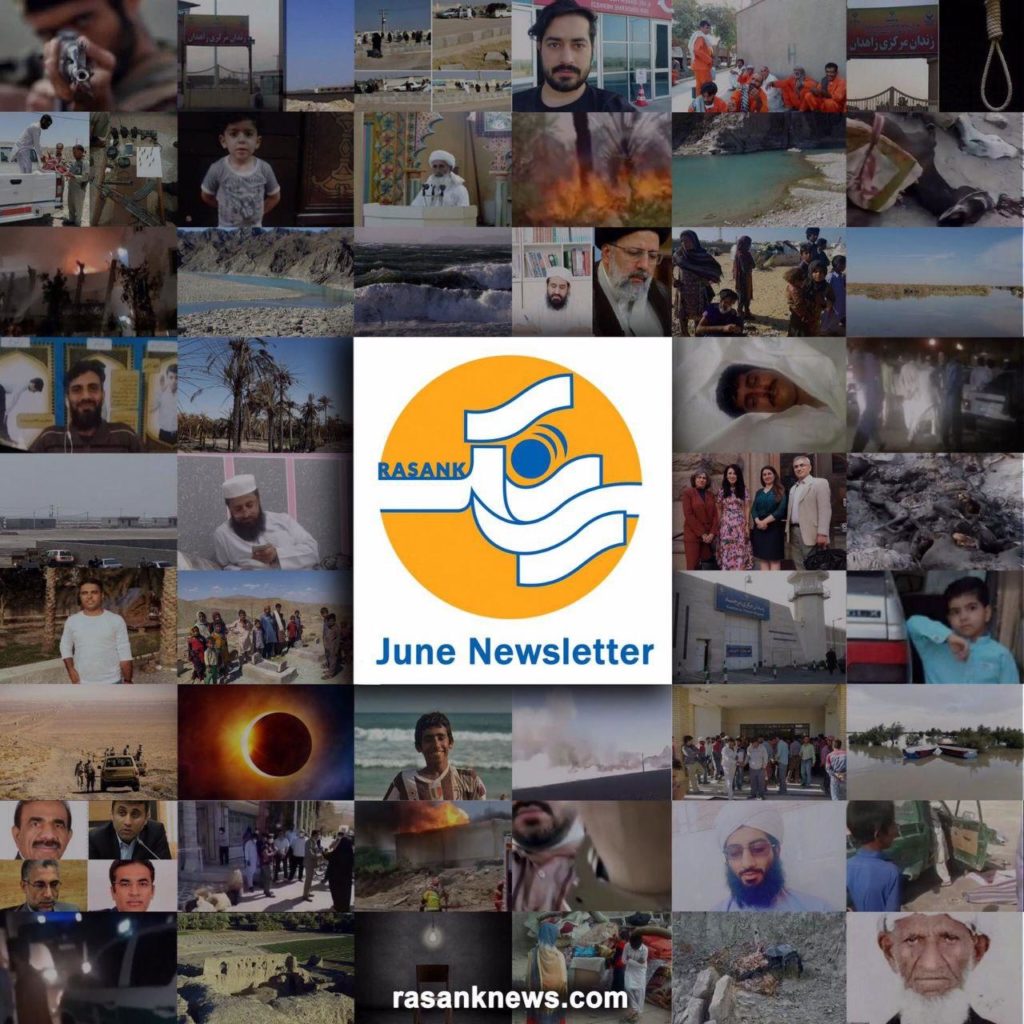 Rasanknews
1_ On 31 May 2020, a 23-year-old woman had drowned in firouzehi village in north of Balochistan to save her child from drowning.
2_ On 2nd June 2020, unidentified gunmen shot a Baloch citizen named "Moslem Raeisi" and fled the scene. Moslem, who had a verbal clash with the forces of the Islamic Revolutionary Gard in the Mashkid border area of Shaston city shortly before the incident, was wounded in the shooting.
3_ On 3 June 2020, following a chase and direct shooting at a vehicle carrying a split by the police forces of the Moman checkpoint of Chahbar axis to geh, the car overturned hitting a passing vehicle and killing four members of a family.
4- The Baloch representatives of the government in Balochistan and Sistan province opposed the anti-identity plan of the division of Balochistan was presented by the extremist representative, Habib o Allah Dahmardeh.
5- On 4 June 2020, a Baloch prisoner named Nasrollah Naroui, son of Ahmad Shah, a resident of Mazandaran, was executed in Birjand Prison on drug charges.
6- The patrols of the deputy headquarters of the Housing Foundation in the city of Chahbar on June 4 2020, attacked a "Kapari house" at night destroying the sanitary facilities threatened the owner of the house to destroy the house.
7- On 5 June 2020, a five-year-old child named Abdolraouf son of Moslem from "dap" village of Sarboug distirct of Kaserkand, drowned and lost his life.
8_ Moulavi Abdul Malik Malekipour, the Friday Imam of Konarak, in a courageous speech on 5 June 2020, called for the annexation of the territories separated from Baluchistan and annexed to the provinces of Khorasan, Kerman and Hormozgan.
9_ On 5 June 2020, the body of an elderly man named Gaji Dorzadeh was found in the Javankan Dam in the city of Geh. He was strangled by unknown individuals.
10_ On the morning of June 6 2020, Hormozgan naval officers raided people's homes in the port of Kolahy under the pretext of detecting fuel smuggling, but met with resistance from the people.
11_ On 6 June 2020, three members of a family drowned in a river in Nasrabad, near the village of Dehno Golmir. Two people were rescued by locals and a third died.
12_ On 6 June 2020, two young Baloch were beaten by the military in the city of Dozap, forcing people to flee by throwing stones at the military.
13_ On 7 June 2020, a wheat field in the Najafabad area of Wash County caught fire and destroyed ten hectares of agricultural products.
14_ On 7 June 2020, in continuation of the illegal activities of the Deputy Headquarters of the Chahbar Housing Foundation, a team from this foundation raided Hout Aabad Chahbar several times at night and threatened its residents with the destruction of their homes.
15_ On Sunday, 7 June 2020, Abed Paydar, a resident of Jakigur and a relative of Moulavi Fazlur Rahman Koohi, was summoned and interrogated by the IRGC.
16_ On 7 June 2020, the Revolutionary Guards terrorist corps killed more than fifty donkeys in a major crime near the Kalagan border in Shastoon, with direct fire, and burned the bodies of many of them.
17_ On 10 June 2020, a part of the warehouse on the second floor of the Ferdows commercial complex in the Chahbar Free Zone caught fire.
18_ On 10 June 2020, a delegation of representatives of the Congress of Federal Nationalities of Iran, including Nasser Boladai, Secretary General of the Balochistan People Party, met with Amena Kake Bawe, Sweden independent socialist representative in parliament. In this meeting, Nasser Boladai explained some of the problems of the Baloch nation.
19_ Abdullah Bozorgzadeh, a Baluch political activist, was arrested by Turkish security police on 11 June 2020, at his home in Ankara, Turkey.
20_ On 12 June 2020, the gardens of Bajgan in Kahnooj city were set on fire, after which three thousand five hundred dates and citrus fruits were destroyed.
21_ On 14 June 2020, a part of the free zone caught fire due to the explosion of a gas cylinder.

22_ On 14 June 2020, two members of a family were wounded and killed in a shooting by unknown gunmen in the city of Dozap. The father was injured in the accident and his young child lost his life.
23_ On 14 June 2020, a group of people from Chahar Chahi and Mobarakeh villages in the Zehkloot district of Balochistan gathered in front of the district to protest against the lack of adequate drinking water.
24_ On Sunday, 14 June 2020, a ram hunter was arrested by the Environmental Protection Agency in the city of Geh.
25_ On Sunday, 14 June 2020, a six-year-old boy named Nima Sohevi Far, the son of Nasser, died in the village of Jawshir in the Tang Sarha area due to a scorpion bite.
26_ The International Surfing Union published on its official Instagram account the news of receiving a scholarship quota for a 17-year-old Baluch child named Davood Khedir.
27_ On 16 June 2020, a prisoner sentenced to death named Ahmad Malahi was pardoned by the victims families in Minab Central Prison.
28_ On 17 June 2020, a 27-year-old prisoner named Omid Hashemzehi was executed in Duzap Prison on charges of murder.
29_ On 17 June 2020, a 23-year-old prisoner named Younes Sarhadi committed suicide by taking pills.
30_ On 19 June 2020, three people drowned after a fishing boat crashed on the Ramin Pier, two of whom were rescued by locals, and a third, Sajed Tanavar, son of Imam Bakhsh, died.
31_ On Saturday, 20 June 2020, the workers of Pehreh Municipality gathered in front of this office to protest the non-payment of their arrears for
32_ On 21 June 2020, astronomical phenomena of eclipses occurred in different parts of Balochistan.
33_ On 21 June 2020, a group of social activists and the people of Nasrabad protested against the lack of Jam.
34_ On 22 June 2020, a Baloch cobbler named Aziz Gorgij, son of Habibaullah from Dozap, was killed and a number of citizens were injured in a mine explosion planted by the Revolutionary Guards terrorist corps at the Shaston border. These areas are without warning signs.
35_ On 23 June 2020, the bodies of four members of a family were found in the city of Meiges. A key family member was arrested as the main defendant.
36_ On 24 June 2020, Abdullah Bozorgzadeh was released from prison in Ankara, Turkey.
37_ On 25 June 2020, a border rocket fired by Pakistani forces hit the border village of Bougan Aliabad in Rask County, causing financial losses to some residents of the village. The Iranian regime did not react to Pakistan's aggression.
38_ On Thursday, 25 June 2020, Mersad and the terrorist corps fired at a vehicle carrying edible oil, causing it to fall to the bottom of a valley in the "Mand" and "Bollu" border area.
39_ On July 25 June 2020, a fire in Houdian village of Dalgan city destroyed one thousand trees.
40_ The head of the Kuhestag checkpoint, Jabbari, committed suicide in the Giavan Zamin area due to psychological pressure and threats from the commanders of the terrorist corps.
41_ On 27 June 2020, Hafez Asghar Koohi's family managed to meet with him for a few minutes after six months.
42_ On 27 June 2020, the workers of Amin Yar Faryab Company went on strike due to bad debts and non-payment of wage arrears and insurance.
43_ On 29 June 2020, an explosion in the path of Iranian military vehicles in the border village of Galogah in the city of Dozap caused damage to soldiers, killed and wounded them. The Jaish-e-Adl claimed responsibility for the attack.
44_ On 30 June 2020, two children, aged three and five, drowned and lost their lives in two separate incidents in the village of Gorovan in the city of Geh.
45_ On 30 June 2020, a prisoner named Vahid Mirbalochzai, son of Mahmoud, was executed in Pehreh prison on murder charges.
46_ On 30 June 2020, a scorpion bite killed a three-year-old boy named Mohammad Kadkhodai from the village of Kenar Komban in the Bent district of Geh County.